---
This week, starting from February 12th until 18th, we celebrate International Kindness Week. The initiative started by the Random Acts of Kindness Foundation and it is celebrated every year. What a great idea it is, we really need more kindness, gentleness and humanity in our lives! One small kindness act can start the ripple effect 🙂 We all should think about it and find the ways of how to create a kinder and more friendly world we could enjoy. It's never too much of it, don't you think?
About Random Acts of Kindness Foundation
As they describe themselves -"Established in 1995, RAK is an internationally recognized nonprofit based in Denver, CO. We consist of a small team that is dedicated to inspiring everyone to practice and spread kindness in their own lives. Ultimately, we're here for the kind-hearted do-gooders who are looking to spread kindness where they can which is why we provide FREE online resources to encourage acts of kindness across the globe (schools, communities, every-day experiences, etc.)". Check their website as it is an amazing source of wonderful ideas and inspirations.
Being kind
The awareness of being kind and selfless acts of spreading the kindness around are really needed in today's world. It would be good if it didn't need to be taught and came as a reflex but it is not always a case.  Teaching kids the kindness from the small age would definitely benefit the whole future society. Lets hope the kindness can be a natural state for everybody one day. It is very important to be generous, considerate, thoughtful and kind to others but also to yourself. We sometimes forget about it… What act of kindness are you going to do for yourself today?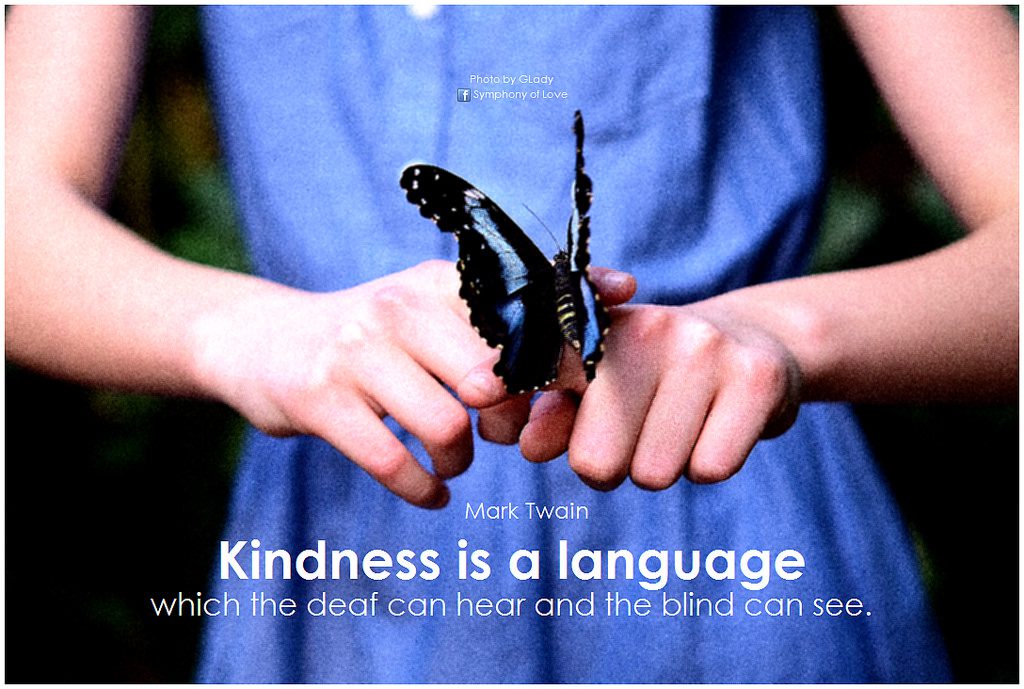 Few words of inspiration
"Three things in human life are important: the first is to be kind; the second is to be kind; and the third is to be kind." – Henry James
"Kindness is a language which the deaf can hear and the blind can see." – Mark Twain
"Be kind, for everyone you meet is fighting a harder battle." – Plato
"Tenderness and kindness are not signs of weakness and despair, but manifestations of strength and resolution." – Kahlil Gibran
"No act of kindness, no matter how small, is ever wasted." – Aesop
"Kindness in words creates confidence. Kindness in thinking creates profoundness. Kindness in giving creates love." – Lao Tzu
Benefits of kindness
Apart of the amazing effect on others and making our world a better place, kindness has also many benefits for the person who performs the act of kindness. Based on some studies by researchers including author and scientist dr David R. Hamilton, kindness has many positive effects on our body and life (find the whole article by dr Hamilton here).
Kindness:
makes us happier
is good for the heart
slows aging
improves relationships
is contagious!
Dr Hamilton just (February 2017)  published the book about it – The Five Side Effects of Kindness: This Book Will Make You Feel Better, Be Happier & Live Longer
Listen also to his amazing TED talk – very inspiring!
So what you could do?
Lets join the kindness revolution and start the ripple effect! Pay forward any act of kindness you experienced and be kind to others!
Here are just few ideas (but think about what you could do):
pay for someone else parking
buy somebody a coffee
surprise somebody with a "thank you card"
make a donation to charity
help someone busy
give someone a flower
stop and talk to a homeless person
take someone out for lunch and pay for it
give someone a thoughtful compliment
help a neighbour
What is your idea of being kind?
The more kindness we spread the better world we make around us!
Share love and kindness and see it coming back to you!!!
What small act of kindness you could do today? Please share your ideas 🙂